INOC History
Introduction of the International Non-Olympic Committee -INOC.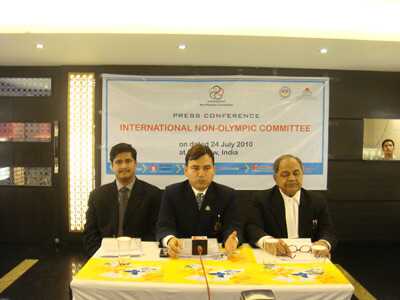 The International Non-Olympic Committee (INOC) has been formed with the first effort taken by the India in 25th March 1997 for development, upliftment, recognition and popularization of the Non-Olympic and Country Origin Games in all over the World. International Non-Olympic Committee -INOC which is registered in India under The Indian Trusts Act of 1882, Government of India. The INTERNATIONAL NON-OLYMPIC COMMITTEE-INOC (www.non-olympic.org) is an International Charter for the World Non-Olympic Sports. The International Non-Olympic Committee -INOC is having its own organs ;
1-International Non-Olympic University-INOU(www.inou-edu.org), 2-World Council For Regular and Distance Education-WCRDE(www.wcrde-edu.org) , 3-International Super-Cricket Committee-ISCC, (www.iscc-super-cricket.org) , 4-World Sports Karate Federation-WSKF, (www.wskf.org) , 5-International Nobel Peace Prize Recommendation Forum-INPPRF (www.nobelpeaceforum.org), 6. International Yoga Committee -IYC (www.iyc-yoga.org), 7. National Brand Awards Committee -NBA (www.nationalbrandawards.org) , 8. Quality Factor -QF (www.qualityfactor.org ), 9. Indo-OIC Islamic Chamber of Commerce and Industry - IICCI (www.indo-oic-icci.org ).
The International Non-Olympic Committee -INOC has been in touch with Non-Olympic Sports Federations and other Sports Organisations and Sports Men at the International level to assist and start formations of National Non-Olympic Committees (NNOCs) not only in their respective countries but all over the World. More than 46 countries have been already making sincere efforts in this direction and in many Europe, American, African, Pacific, and Gulf Countries are in the process of forming National Non-Olympic Committees for the purpose. It is further a matter of great happiness that by a general consensus/ all the Non-Olympic Sports, Non-Olympic Federations, Sports Personalities, Players and Experts from every fields of Sports have agreed to make an International Non-Olympic Sports Forum to promote it's mission. The co-operation and assistance has also been received from the UNESCO (UNO) as well as Sports Ministries from many countries of the World.